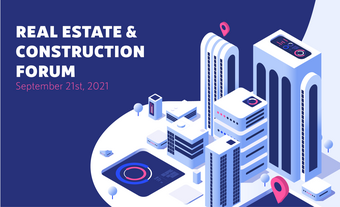 Formatul evenimentului este hibrid, urmând să se desfășoare în format fizic (la Hotel Radisson Blu, București) și online (platforma Cisco Webex).
Alături de importanți jucători din industrie, vom dezbate situația actuală a pieței imobiliare și previziunile pentru 2021, pentru următoarele sectoare: retail, industrial & logistics, office & rezidențial.
Speakerii confirmați la "Real Estate & Construction Forum" sunt:
· DIDIER BALCAEN, CEO & Partner, Speedwell
· EMMA TOMA, Head of Office Division, AFI EUROPE ROMANIA
· ȘTEFAN TUDOS, Vice President, Genesis Property
· ȘERBAN JUVERDEANU, Head of Development, GLOBAL VISION
· MIHAI PĂDUROIU, CEO Office Division, ONE UNITED PROPERTIES
· MARIA CRĂCIUN, Director Comercial, Veranda Mall
· BRENDON O' REILLY, Managing Director, Fashion House Group
· LOREDANA OPRIȘA, Leasing and Development Manager, Olympian Parks Management
· LUCIAN BULARCA, Director Dezvoltare, Grup ICCO Brașov
· ROXANA DUDĂU, Partener Asociat, Coordonatorul practicii de drept imobiliar, Radu și Asociații SPRL
· PAUL-GEORGIAN TURCU, Fondator EVOHouse Construct și EVOFacade; Cofondator INOVESS GROUP, Consortiul European pentru inovație
· BEATRICE DUMITRAȘCU, CEO Residential Division, ONE UNITED PROPERTIES
· ANTOANELA COMȘA, Presedinte, GRANVIA ROMANIA, Presedinte, AREI
· IRINA CARAENE, Sales Director, CORDIA ROMÂNIA
· DANIEL BUHAZI, Commercial Director, Ariston Thermo România – divizia ELCO Heating Solutions
· ALEX SKOURAS, Managing Partner, ALESONOR
· CLAUDIU BISNEL, Managing Partner & Founder, BRISK GROUP
· CRISTIAN PASCU, CEO, PSC Group
Evenimentul va fi moderat de:
· SIMINA NICULIȚĂ, Partner & Head of Retail Services, Colliers
· LAURENȚIU DUICĂ, Senior Vice President Industrial, Logistics, E-commerce & Retail, Avison Young România
· VLAD DAMIAN, Head of Investor Leasing, Advisory & Transaction, Office, CBRE Romania
· GABRIEL BLĂNIȚĂ, Associate Director Valuation and Advisory Services, Colliers
Împreună, vom căuta răspunsuri la întrebări precum: Cum se preconizează piața de real estate pe fiecare segment - retail, industrial & logistics, office & rezidențial? Care sunt planurile și strategiile de dezvoltare ale celor mai importanți jucători din industrie? Ce proiecte ce urmează să fie livrate în București și principalele orașe? Ce influențează acum decizia de cumpărare sau închiriere? Cum vor evolua prețurile imobiliarelor în 2021? De ce este necesar să avem o perspectivă a schimbării asupra business-ului? Suntem realmente pregătiți pentru noua viteză de evoluție a tehnologiei, societății, economiei?
Evenimentul vizează investitori pe piața imobiliară, dezvoltatori imobiliari, agenții imobiliare și brokeri, companii de consultanță, companii de construcție, birouri de arhitectură, furnizori de materiale de costrucții și tehnologie, comercianți de materiale de construcții, societăți de avocatură și alți experți în domeniu.
Pentru detalii despre agendă și posibilitatea de înscriere, vă rugăm să consultați pagina evenimentului, disponibilă AICI.
Eveniment organizat de: BusinessMark
Partener Oficial: Speedwell
Parteneri: AFI Europe Romania, ELCO Heating Solutions, Cordia România, BRISK Group, INOVESS GROUP, Genesis Property, EY România, Radu și Asociații SPRL, PSC Group, Colliers, Biroul de Traducerei Champollion
Partener de tehnologie: Dendrio
Parteneri media: birouinfo.ro, depozitinfo.ro, Ziarul Bursa, DeBizz, Transilvania Business, Revista Piața, TheBizz, Energynomics.ro, Administrație.ro, Global Manager, Financial Market, FinZoom.ro, Jurnalul de Afaceri, spatiulconstruit.ro
BusinessMark este o companie ce oferă servicii integrate B2B. Principala linie de activitate a BusinessMark este organizarea de evenimente business "concept propriu" prin care ne propunem să oferim mediului de afaceri românesc un spaţiu profesionist de discuţii şi networking. Combinând metode de comunicare şi business matchmaking, oferim partenerilor noștri modele de dezvoltare complexe, conectându-i în mod direct cu mediul de afaceri şi creând oportunităţi de parteneriat strategic.