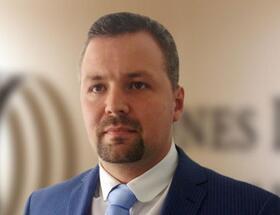 Rolul sau va fi de a veni atat in intampinarea nevoilor clientilor existenti din portofoliu JLL cat si de a dezvolta noi parteneriate de afaceri, prin promovarea serviciilor de consultanta intr-o formula integrata, fie ca este vorba de investitii, evaluarea portofoliilor, property management sau servicii de cercetare de piata si dezvoltari imobiliare.
Catalin Jaloba este in prezent membru RICS (Royal Institition of Chartered Surveyors), avand peste 10 ani de experienta in domeniul imobiliar.
De-a lungul timpului, Catalin si-a dezvoltat competentele tehnice in roluri de senior valuer, manager de expansiune, managing director precum si euroconsilier pe probleme de integrare europeana.
Catalin este absolvent al Facultatii de Drept, detine un master in drept international si a absolvit in 2014 programul EMBA in cadrul Maastricht School of Management.
Ariile sale principale de expertiza sunt consultanta in investitii, dezvoltare proiecte retail si evaluarea portofoliilor de proprietati mixte. (sursa: dailybusiness.ro)