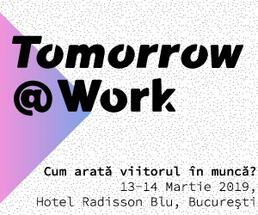 Privind la angajatul viitorului, acesta va trebui să dețină atât aptitudini new-age, tehnologice, digitale, cât și soft skills, creativitate sau aptitudini analitice pentru a se putea adapta dinamismului și complexității noului context de muncă. În aceeași măsură, tehnologia schimbă nu numai natura job-urilor, dar și modul de desfășurare a acestora. Activitatea va fi reconfigurată, iar angajatul viitorului va trebui să aibă un nou set de skill-uri. Cum pot departamentele de HR să preîntâmpine aceste provocări?
Privind evoluția locurilor de muncă, ne punem această întrebare și ne gândim în ce măsură putem forma suficiente talente potivite specificului noilor poziții, dar și în ce măsură putem asigura suficiente job-uri și derula programe de reorientare profesională pentru cei ce vor fi afectați de dezvoltarea tehnologică.
La [email protected] specialiștii din domeniul resurselor umane vor dezbate provocările cu care se confruntă industria în prezent, dar și pe cele preconizate în viitor, vor răspunde întrebărilor și curiozităților și vor da curs celor mai interactive discuții din domeniu.
Iată cine sunt speakerii care ne vor fi alături:

• AGNES JONGKIND, Global Vice President Human Resources, DEUTSCHE TELEKOM (Germania)
• ROBIN ELLIS, Global Talent Acquisition Leader, PURATOS (Belgia)
• SERGIO DE LA CALLE ASENSIO, Head of Change Management & Adoption in HR Transformation, TELEFONICA (Spania)
• ANDRE DE WIT, Dean, LEADERSHIP ACADEMY AMSTERDAM (Olanda)
• RUUD RIKHOF, Managing Partner, KENNEDYFITCH (Elveția)
• MARIAN V. POPA – Head of Global Technology Center, DEUTSCHE BANK ROMÂNIA
• ILEANA ALEXANDRU, Human Resources Director, MEGA IMAGE (România)
• GABRIELA NEAMȚU, HR Manager, MOL ROMÂNIA (România)
• DIANA BOCANEALA, Global Head of People Operations Programmes and Change, ENDAVA (România)
• JUDITH KIS - Human Resources Director, GROUPAMA ROMÂNIA ASIGURĂRI
• CARMEN NEAGU - Consilier pe Probleme de Strategii și Dezvoltare Afaceri, ENERGOBIT SA
• FLORENTINA TAUDOR - Director General, RENANIA
• ANA MARIA ILIE - HR Manager, ALEXANDRION GROUP
• MĂDĂLINA CĂMĂRAȘU - Program Manager, Global Leadership Development, UIPATH
• SONIA BIGHIU – Talent Acquisition Leader EMEA, UIPATH
• ARMINA DOBRICĂ - Corporate Welness Consulting, AON ROMANIA
• ANNEMARIE FABIAN - Sales enthusiast, BOOKSTER
• GABRIELA MARIN - Human Resources Director, CRISTIM
• ANDREEA ION - HR Director, POLICOLOR
• ANDREEA SUCIU, Managing Partner, Suciu | The Employment Law Firm
• ANDREEA MIHNEA - HR Director EY România and Moldova
• OANA MUNTEANU, Senior Manager, Servicii de Consultanță în Resurse Umane, PwC România
• AURELIAN CHITEZ, Sales Director, ROMANIAN SOFTWARE
• OANA PASCU, Owner, COMPLICE.RO
• VASILICA ZULD - HR Director, SOFTVISION

Aceștia vor aborda principalele teme de discuție.
Mai multe detalii despre conferința [email protected] și modalitatea de înscriere puteți afla aici.
Eveniment organizat de BusinessMark, susținut de: Romanian Software, EY România, Signal Iduna, AON România.