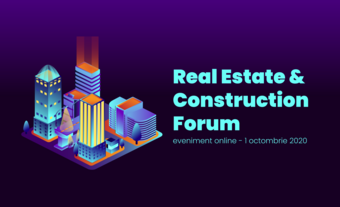 Pe 1 octombrie 2020, BusinessMark are plăcerea să vă invite cea de-a XI-a ediție a "Real Estate & Construction Forum", eveniment ce va avea loc online.
Alături de noi vor fi importanți jucători din industrie, care vor discuta despre efectele crizei sanitare asupra sectorului imobiliar, în contextul în care toate procesele s-au schimbat din cauza noilor reguli impuse de pandemie – fie că vorbim despre închirieri, achiziții sau vânzări.
Împreună, vom căuta răspunsuri la întrebări precum: Care sunt concluziile anului 2020 și ce perspective avem pentru 2021, pentru fiecare segment în parte: retail – industrial & logistics – office – residential? Cum va arăta noua normalitate? Care sunt elementele pe care le vor prețui clienții, atunci când își vor alege spațiile în viitor? Care este poziționarea României față de piețele din regiune? Ce strategii vor adopta dezvoltatorii în viitor? Cum s-au schimbat preferințele consumatorului în real estate?
Alături de noi vor fi:
ANA DUMITRACHE
, Country Head Romania, CTP INVEST;
ALEXANDRU MIHAI
, Senior Partner, NORDIS GROUP;
ȘTEFAN TUDOS
, Executive Vice President, GENESIS PROPERTY;
OANA DIACONESCU
, Head of Leasing,IULIUS;
ANTOANELA COMȘA
, General Manager, GRANVIA ROMANIA; President, AREI;
MARK OANCEA
, Director de Dezvoltare, VOX TECHNOLOGY PARK;
SILVIU BULZAN
, Leader Systems & Services O&I Romania – Systems & Services Europe, SIGNIFY;
ȘERBAN JUVERDEANU
, Head of Development, GLOBAL VISION;
BEATRICE DUMITRAȘCU
, Vice-President Residential Sales, ONE UNITED PROPERTIES;
ANDREI POGONARU
, Partener, CENTRAL EUROPEAN FINANCIAL SERVICES S.A.;
CRISTIAN PASCU
, CEO, PSC GROUP;
CLAUDIU BISNEL
, Partner & Co-Founder, BRISK GROUP;
ADRIAN CRIZBĂȘIANU
, Director General, VGP PROIECTE INDUSTRIALE;
LUCIAN ANGHEL
, Founder & CEO, ENERGYPAL - TIMEPAL ROMANIA & FMS;
LIANA DUMITRU
, Associate Director, Retail Agency, COLLIERS INTERNATIONAL ROMANIA;
RĂZVAN NICA
, Managing Director, BUILDGREEN;
PETER DOUBLE
, Managing Director,ANDEL Ltd.;
IRINA ALBU
, Sales Director,CORDIA ROMÂNIA;
OVIDIU GRINICI
, Sales Director, IMPACT DEVELOPER & CONTRACTOR.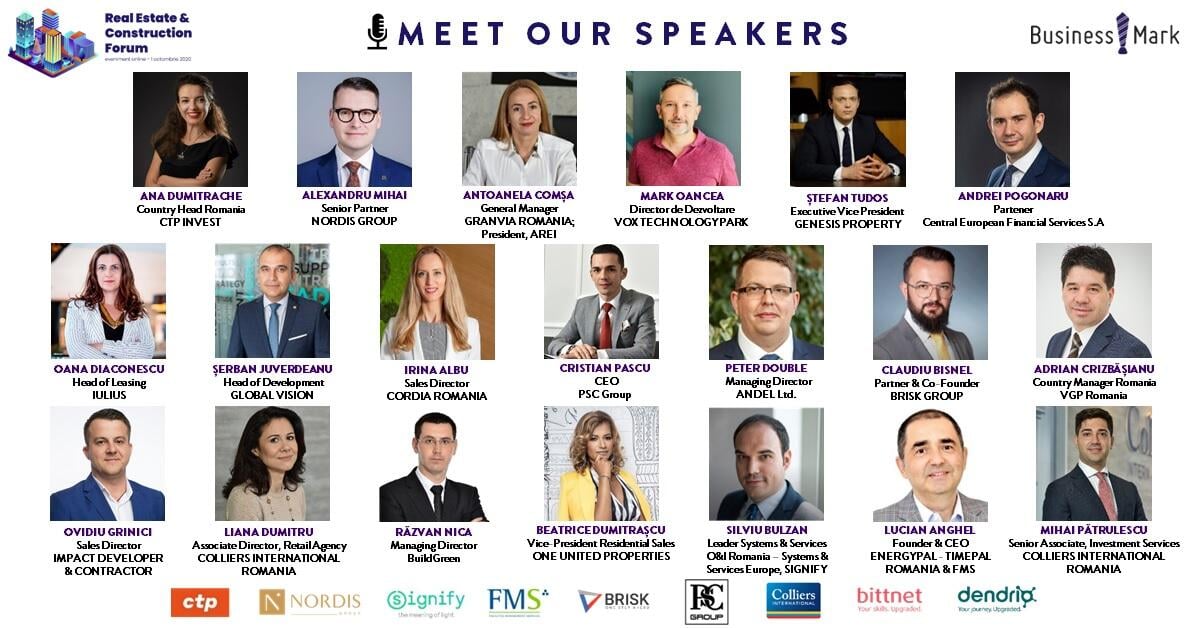 Moderator al evenimentului este MIHAI PĂTRULESCU, Senior Associate, Investment Services, COLLIERS INTERNATIONAL ROMANIA.
Evenimentul vizează: investitori pe piața imobiliară, dezvoltatori imobiliari, agenții imobiliare și brokeri, companii de construcții, companii de consultanță, birouri de arhitectură, furnizori de materiale de construcții și tehnologii, comercianți de materiale de construcții, societăți de avocatură, experți în domeniu.
Participarea la eveniment este gratuită, însă este necesară înscrierea prealabilă AICI. Pentru informații suplimentare, vă rugăm să ne contactați la [email protected].
Mark your B2B opportunity, alături de BusinessMark!
Eveniment organizat de BusinessMark, susținut de: CTP Invest, Nordis Group, Signify, FMS, BRISK, Colliers International Romania, Bittnet, Andel Ltd, PSC Group.
Partener de tehnologie: Dendrio
Radio-ul oficial al evenimentului: Europa FM
Parteneri media: Ziarul Bursa, DeBizz, Transilvania Business, Revista Piața, Energynomics, birouinfo.ro, depozitinfo.ro, 1001m2.ro, administratie.ro, Global Manager, Clujul de Buzunar, Financial Market, Finzoom, Jurnalul de Afaceri, Top Business.
BusinessMark este o companie ce oferă servicii integrate B2B. Principala linie de activitate a BusinessMark este organizarea de evenimente business "concept propriu" prin care ne propunem să oferim mediului de afaceri românesc un spaţiu profesionist de discuţii şi networking. Combinând metode de comunicare şi business matchmaking, oferim partenerilor noștri modele de dezvoltare complexe, conectându-i în mod direct cu mediul de afaceri şi creând oportunităţi de parteneriat strategic.