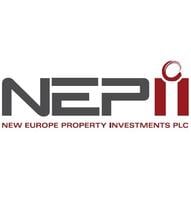 În primele trei luni ale anului trecut, NEPI a consemnat un profit atribuibil acționarilor de 24,3 milioane euro.
Veniturile brute din chirii au crescut cu 32%, de la 23,9 milioane de euro la 31,6 milioane de euro.
La 31 martie, activele totale erau de 2,3 miliarde euro, în creștere cu 35% față de sfârșitul primului trimestru al anului trecut.
New Europe Property Investments este un grup de investiții listat la Busa de Valori din Johannesburg (JSE), la Bursa de Valori de la Londra (LSE), precum și la Bursa de Valori din București (BVB). Grupul a fost înființat în anul 2007, iar în România portofoliul NEPI cuprinde  Mega Mall, Mall Promenada, Vulcan Value Center, Timișoara Shopping City, CityPark Constanța, Ploiești Shopping City, Brăila Mall, Galați Shopping City, Shopping City Târgu-Jiu, Severin Shopping Center și alte centre comerciale în întreaga țară, dar și în Serbia și Slovacia.
NEPI mai deține și clădirile de birouri Floreasca Business Park, The LakeView din București, City Business Centre din Timișoara și The Office din Cluj.
Rezultatele financiare consolidate condensate neauditate pentru perioada de trei luni încheiată la 31 martie 2016 au fost întocmite în conformitate cu criteriile de recunoaștere și măsurare din Standardele Internaționale de Raportare Financiară (IFRS). (sursa: profit.ro)