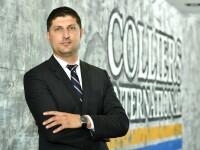 Laurențiu Duică are o experiență de peste 12 ani în piața de industrial, perioadă în care a lucrat atât pe partea operațională, cât și pe partea de vânzări.
"Piața de industrial are toate premisele pentru a se dezvolta în următorii ani, abia acum intrând într-o perioadă de maturitate, drept dovadă recentele achiziții și dezvoltări din acest sector. Consolidarea echipei de consultanță pentru spații industriale din cadrul Colliers a venit astfel ca un pas firesc și ne propunem, cu ajutorul lui Laurențiu și a experienței sale, ca acest sector să devină unul din pilonii de bază pentru creșterea businessului Colliers", a declarat Ilinca Păun, Managing Director Colliers International.
În ultimii doi ani, Laurențiu Duică a ocupat poziția de Head of Leasing and Development în cadrul fondului de investiții P3, care a intrat în România în anul 2015, prin achiziția parcului industrial Europolis Park, aceasta fiind cea mai mare tranzacție încheiată vreodată pe piața locală de industrial.
Anterior, Laurențiu a lucrat timp de șapte ani în compania FM Logistic, unul din cei mai mari provideri logistici din Europa și România, avansând până la funcția de Commercial Manager. Începând din luna septembrie, el va coordona echipa de consultanță pentru spații industriale a Colliers International, fiind responsabil cu dezvoltarea strategiei de creștere a departamentului.
"Vom continua extinderea echipei Colliers pe toate segmentele pieței imobiliare, anul acesta fiind unul al schimbărilor la nivel intern, odată cu aniversarea a 20 de ani de prezență Colliers în România", a adăugat Păun.
În acest an, stocul de spații industriale din Bucureși a depășit pragul de un milion de metri pătrați, iar la nivelul întregii țări a ajuns la 2,3 milioane de metri pătrați, încă 170.000 de metri pătrați urmând a fi livrați până la sfârșitul anului. (sursa: profit.ro)