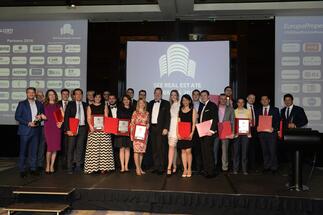 Calitatea și numărul companiilor nominalizate la evenimentul de anul acesta subliniază creșterea piețelor imobiliare din regiune. Consultantul internațional CBRE a strălucit cel mai mult în cadrul serii, cu șapte premii câștigate, incluzând toate premiile importante acordate unei agenții, precum și premiul Property Management Team of the Year, Overall Company of the Year și Professional of the Year, acordat lui Razvan Iorgu, Managing Director al companiei.
Cea de-a 11-a ediție anuală a premiilor SEE Real Estate pentru 2015 s-a desfășurat în fața unei audiențe impresionante și entuziaste. Evenimentul a reunit dezvoltatori, investitori și profesioniști de top, care au venit să afle cine a câștigat cele 25 de premii acordate în timpul serii.
Premiile Company of the Year au fost prezentate către cei mai importanți dezvoltatori, investitori și furnizori de servicii din Europa de Sud-Est, pentru activitatea și realizările din 2015. Companiile au fost jurizate în funcție de întreaga lor contribuție în piață, de calitatea serviciilor pentru clienți, de inovarea din piață, de succesul comercial, de leadership și penetrarea de piață.
AFI Europe a câștigat premiul Office Developer of the Year. Dezvoltatorul suedez Skanska a fost de asemenea un câștigător important pe segmentul de birouri, adjudecându-și premiul Green Office Building of the Year pentru Green Court Bucharest (Clădirea B).
Câștigătorii premiilor Project of the Year au fost jurizați în funcție de calitatea proiectului, eficiența clădirii, calitatea locației, considerente de mediu și succesul comercial. Juriul a decis că cea mai bună dezvoltare de retail a anului a fost  Coresi Shopping Resort aparținând Immochan, companie care a primit și premiul Retail Developer of the Year. Premiul Industrial Development of the Year a mers la P3 Bucharest pentru Carrefour în românia. Pe segmentul rezidențial, premiul Residential Development of the Year prize a mers la Cosmopolis, un proiect al Opus Land development, care a câștigat și premiul Residential Developer of the Year.
Dezvoltatorul portughez Sonae Sierra și concernul irlandez Caelum Development au câștigat premiul Concept & Design Project of the Year pentru centrula lor comercial din București, ParkLake.
Coldwell Banker a plecat acasă cu premiul Residential Agency of the Year, iar UniCredit Bank/UniCredit Group a câștigat premiul Bank of the Year. Accentuând interesul în zona de retail a regiunii Europa de Sud-Est, premiul Overall Retailer of the Year a mers la H&M.
Alți câștigători importanți au fost CTP, cu premiul Industrial Developer of the Year, Chapman Taylor cu Architectural Firm of the Year și Bog'Art, cu Professional Service Provider of the Year. Premiul Project Management Firm of the Year a fost câștigat de Optim Project Management, iar premiul Law Firm of the Year de către Dentons.
Partenerii principali au fost Immofinanz Group, CTP, CBRE, Forte Partners și Coldwell Banker. Partenerii asociați au fost Sonae Sierra, CA IMMO, Skanska și Atalian. Sponsorii premiilor au fost Immochan, MK Illumination, Wolf Theiss, Vastint, Optim Project Management, UniCredit Bank, JLL, Epstein și AECOM, sponsor - Colliers International, sponsor cadouri – Cameloen, Sustainability Partner – BuildGreen, Auditor – EY, Supporting Partners  - British & Romanian Chamber of Commerce, Rosa, URE Club și RICS, iar partener locație - Radisson BLU Hotel.
Din partea sponsorilor, juriului și participanților, felicităm toți câștigătorii. S-au creat deja premisele pentru evenimentul de anul următor, care promite să fie chiar și mai impresionant.
Lista completă a câștigătorilor SEE Real Estate Award
Retailer of the Year
H&M
Professional Service Provider of the Year
Bog'Art
Architectural Firm of the Year
Chapman Taylor
Law Firm of the Year
Dentons
Project Management Firm of the Year
Optim Project Management
Property Management Firm of the Year
CBRE
Bank of the Year
UniCredit Bank/UniCredit Group
Residential Agency of the Year
Coldwell Banker
Industrial Agency of the Year
CBRE
Retail Agency of the Year
CBRE
Office Agency of the Year
CBRE
Investment Agency of the Year
CBRE
Investor of the Year
NEPI
Residential Developer of the Year
Opus Land Development
Industrial Developer of the Year
CTP
Retail Developer of the Year
Immochan
Office Developer of the Year
AFI Europe
Residential Development of the Year
Cosmopolis - Opus Land Development - Romania
Concept & Design Development of the Year
ParkLake - Sonae Sierra/Caelum Development - Romania
Industrial Development of the Year        
P3 Bucharest for Carrefour - P3 - Romania
Retail Development of the Year
Coresi Shopping Resort - Immochan - Romania
Green Office Development of the Year
Green Court Bucharest - Skanska Property - Romania
Overall Awards
Company of the Year
CBRE
Professional of the Year
Razvan Iorgu - CBRE
(source: EuropaProperty)