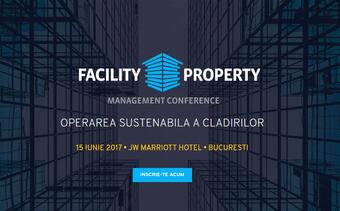 In contextul unei evolutii accelerate a pietei si unei cereri tot mai sofisticate din partea proprietarilor de cladiri si a chiriasilor, managerii de proprietati si profesionistii se confrunta din ce in ce mai mult cu provocarea de a alinia activele de care raspund (cladiri, spatii de lucru, tehnologie, etc.) la noile cerinte.
Conferinta va cuprinde 3 sesiuni:
-Proiectarea si dezvoltarea eficienta a cladirilor sustenabile
-Operarea eficienta a cladirilor sustenabile
-Costurile de operare versus investitii si eficientizarea cheltuielilor de operare
Cele trei sesiuni vor aduce in prim plan perspectivele locale si regionale din industrie, provocarile si noile tehnologii necesare pentru a ramane competitiv si pentru a oferi clientilor cladiri de inalta performanta.
Vorbitorii conferintei Facility&Propert Management:Razvan Iorgu (Managing Director, CBRE Romania), Stephen Richard Burke (Construction Director, Forte Partners), Florin Popa (Fondator si Managin Partner, Vitalis Consulting), Gabriel Ignat (Director Tehnic Business Unit Facility Management – Aeroporturi UTI Grup, Inge Abdulcair (Senior Manager, PwC Romania), Alinda Dudu (Senior Architect, Sustainability Analyst, Epstein Architecture & Engineering Romania), Raluca Buciuc (Associate Director, Valuation Services and Hospitality Advisory Services, Colliers Romania),Luiza Moraru (Head of Retail&Asset Services, CBRE Romania), Andrei Angelescu (Manager of Arhitecture and Design Department, Corporate Office Solutions),Oana Gauca (Senior Property Manager, Real Estate Management Services, Colliers Romania),Georgiana Balan (Avocat Senior, D&B David si Baias), Costin Nistor (Senior Property Manager | Property Management, BNP Paribas Real Estate), Alexandru Nita (Business Development Manager, Servsting).

Mai multe detalii despre eveniment si inscriere sunt disponibile pe www.facilityconference.ro.