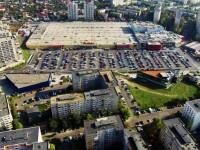 Valoarea tranzactiei se ridica la 86 milioane de euro, potrivit datelor NEPI. Consultantii Aberdeen au fost compania de consultanta imobiliara Colliers International si firma de avocatura Biris Goran.
DEGI Titan, companie detinuta de Aberdeen Immobilien, anunta in 2011 ca a investit zece milioane de euro in relansarea proiectului Iris Titan Shopping Center, cumparat de la Avrig 35 in vara anului 2008.
Iris Shopping Center are o suprafata inchiriabila de 44,730 mp, este situat in zona Titan si a fost dezvoltat de Avrig 35. Proiectul a fost vandut catre Deutsche Gesellschaft fur Immobilienfonds (DEGI) in iunie 2008 si a facut parte din portofoliul Aberdeen Immobilien. Centrul comercial are mai multe ancore, precum Adidas, C&A, CCC, Deichmann, dm, Flanco, H&M, New Yorker and Takko, insa principalul magazin-ancora este retailerul Auchan Titan.
Fondul de sud-african de investitii gestioneaza in Romania, printre altele, centre comerciale precum Promenada Mall, Mega Mall, Ploiesti Shopping City, mall-ul Aurora din Buzau, City Park Constanta sau Vulcan Value Center Bucuresti, dar si cladirile de birouri Floreasca Business Park, The Lakeview in Bucuresti si City Business Centre Timisoara.
Fondul are in dezvoltare in Romania investitii de peste 460 de milioane de euro, in proiecte noi sau in extensii de proiecte existente, suprafata totala inchiriabila la finalizare fiind estimata la peste 250.000 metri patrati. Unul dintre proiectele care urmeaza sa fie dezvoltat de NEPI este Victoriei Office, un proiect langa Guvern. (sursa: wall-street.ro)