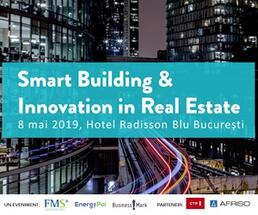 Clădirile inteligente integrează și gestioneaza informațiile, ocupanții, sistemele clădirii, materialele și construcția ca un întreg sistem adaptabil, pentru a obține performanța clădirii din punct de vedere al: energiei, eficienței, longevității clădirii, confort și grad de satisfacție al ocupanților.
Clădirea inteligentă implică și servicii smart, bazate pe tehnologie, care o mențin în parametrii proiectați: managementul utilităților și al energiei, monitorizarea sistemelor de automatizare, mentenanță predictivă, siguranță și securitate și nu în ultimul rând aspecte legate de experința consumatorului.
Evenimentul se va împărți în două sesiuni de dezbateri: conferința și workshop de lucru aplicat.
În cadrul acestei dezbateri vor fi alături de noi:
LUCIAN ANGHEL,
CEO, ENERGYPAL
ADRIAN URSULEAN
, Head of Property Management România, CTP ROMÂNIA
MELINDA REIKLI,
Country Manager, S+B Gruppe AG România
RĂZVAN NICĂ,
Managing director, BUILDGREEN
ALEXANDRU THEODOR MICULAȘ,
Head of Facility Management Services, FMS România
VASILE CASIAN
, Technical Manager, Mega Image
FLORIN NEMȚANU,
Associate Profesor, Universitatea Politehnică București, Director ITS Master Programme
HORIA VOICU,
Director, AFRISO România
ALEXANDRA CERNIAN,
Lector universitar, Facultatea de Automatică și Calculatoare, Universitatea Politehnică București
DAN ALUPOAI,
Product Manager, AFRISO Romania
CRISTIAN ȘORICUȚ,
Vicepreședinte, A.R.T.S- Asociația Română pentru Tehnică de Securitate
Aceștia vor aborda principalele teme de discuție.
Mai multe detalii despre conferința Smart Building & Innovation in Real Estate și modalitatea de înscriere puteți afla aici.
Eveniment organizat de BusinessMark, Facilities Management Services și EnergyPal, susținut de: CTP Invest, AFRISO.
Radio-ul oficial al evenimentului: Europa FM.
Parteneri media: Bursa, Transilvania Business, Energynomics.ro, Business24, DeBizz, Financial Market, PRwave, Financiarul, Finzoom, Tranzit, Ziare.com, MATEK, PRbox.ro, Rbe Connect, Spatiulconstruit.ro, Business Press, Administratie.ro, Instalnews.ro, Misiunea Casa, Curierul Național, Jurnalul de Afaceri, Monitorul de Făgăraș, We #Better, Proidea, Ibuildinfo, InTurda.ro, Global Manager, Agenda Constructiilor, Antreprenor în România, InfoOradea, Portal Management, Depozitinfo.ro, Birouinfo.ro, FMMagazin.