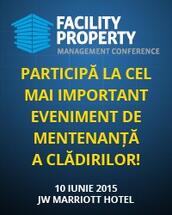 Evenimentul cuprinde o zi de conferinte intensive ce vor oferi o perspectiva ampla asupra tendintelor regionale si locale cu care se confrunta aceasta industrie, aducand in discutie semnele pozitive si provocarile induse de peisajul economic global si regional asupra acestui domeniu, alaturi de o numeroase subiecte de interes pentru reprezentatii din zona de FPM.
Conferinta va reuni specialisti, experti si practicieni internationali si locali din industria de facility si property management ce vor oferi participantilor exemple si studii de caz practice.
Invitat special, Alexi Marmot (Professor of Facility and Environment Management, UCL Institute for Environmental Design and Engineering The Bartlett Faculty of the Built Environment UCL) vine in cadrul conferintei sa vorbeasca despre problema integrarii durabilitatii in industria de FPM.
In cadrul evenimentului participantii vor avea ocazia sa afle care sunt oportunitatile si noutatile pentru industria de profil, noile reglementari din domeniu si ultimele tendinte capabile sa influenteze in mod decisiv afacerea, dar si posibilitatea de a analiza performanta in raport cu cei mai buni jucatori din industrie.
In contextul unei evolutii dinamice a mediului de afaceri si celui tehnologic deopotriva, managerii de proprietati si profesionistii din domeniul "facility management" se confrunta mereu cu provocarea de a alinia activele corporale de care raspund (cladiri, spatii de lucru, echipament, mobilier, flote) cu strategia organizatiei din care fac parte.
Aceste servicii implica costuri considerabile si au un impact semnificativ asupra productivitatii, sigurantei si satisfactiei angajatilor, precum si asupra mediului inconjurator. In consecinta, este absolut necesar ca facility managerii si toti cei implicati in acest domeniu, sa inteleaga si sa aprofundeze specificul pietei romanesti.
Printre vorbitorii evenimentului se numara specialisti renumiti in industrie precum: Tudor Trita (Managing Director, ARCHIBUS Solution Center Romania), Richard Mocko (President, ROFMA), Duglas Papanicu (Middle East Facility Manager, Autodesk), Paul Constantin Dragoiu (CEO-Director General Building Support Services), Ilie Almajan (Division Manager Reiwag Facility Services), Tiberiu Teleanu (Head of Facility Management Department, BCR - RealEstate Management), Silviu Vata (Consultant Independent), Eugen Ion (Consultant Independent FM), Razvan Jiga (Property and Building Management, CA Immo Real Estate), Geyer Ehrenberg Szilveszter Zolton (BS Sales Engineer Arad, GRUNDFOS Pompe Romania), Marcia Taiachin (Head of Investments and Performance Management, Services Unit, Enel Servicii Comune).
Mai multe informatii privind subiectele abordate, vorbitori si inscriere puteti gasi pe: www.facilityconference.ro.