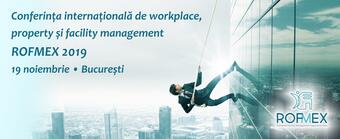 Evenimentul reunește corporate facility manageri, directori și facility manageri ai firmelor care fur-nizează servicii de FM, reprezentanți ai departamentelor de achiziții, proprietari de clădiri și dezvol-tatori, ingineri, arhitecți, autorități publice, presă de specialitate.

Având ca partener principal pe ENGIE și bucurându-se de sprijinul RICS, conferința abordează următoarele teme:

• Starea FM. De la schimbul generațional la șansele oferite de PropTech
• FM-ul operațional inteligent. Cum să îmbini armonios tehnologiile și managementul oamenilor pentru a obține servicii de calitate.
• Workplace & Facility Management Strategic. Necesitate și oportunitate pentru corporate facility manageri și corporate real estate manageri.

La finalul conferinței, panelul de dezbatere între proprietari și dezvoltatori, property manageri și facil-ity manageri va încerca să aducă răspunsuri la întrebarea: Vedem aceleași oportunități și amenințări în piața locală de workplace și facility management?
Printre speakerii internaționali care au confirmat prezența se numără Jos Duchamps, Director în Board-ul Global IFMA, Lara Paemen, Director IFMA EMEA, Paul Bagust, Global Property Stand-ards Director, RICS, UK, Yvet Brummelhuis și Sanne Anvelink, coproprietare The World of YES, Olanda, Eric Lamendour, Data Center Customer Segment & Offering Director, ENGIE, Franța, Al-exander Athanassoulas, CEO STIRIXIS Group, Grecia, Tudor Marchiș, COO ESPL Embassy Group, India, Yishai Hatzir, Director of Development & Operation Step Hear, Israel, Attila Gorbai, Vice President Sales CEE & CSEE, TCS EMEA GmbH.
Acestora li se adaugă ca speakeri români o constelație de top manageri ai unor importanți jucători din piață precum Archibus, Avison Young, BSS, CBRE GWS, Coral Construct, Cushman & Wake-field Echinox, Engie, Genpact, Globalworth, Mindspace, UTI.
Parteneri & sponsori: Engie, ISS, RICS, Archibus Romania, Building Support Services, Tenrom, Wilo, Amber Technologies, Avison Young, Coral Construct, Facilitec Romania, MT&T Atalian, Nil-fisk, Recolamp, UTI Facility Management, OAR București, Bimtech, Tchibo, Dussmann Events & Catering, Casa de traduceri.
Detalii & calendar eveniment, lista completă a speakerilor și înscriere: www.rofmex.ro