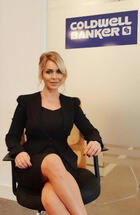 Georgia Cailean, 37 de ani, a absolvit Facultatea de Inginerie Civilă în limba engleză, fiind membră a Royal Institution of Chartered Surveyors, cu specializări în Corporate Real Estate, Property & Facility Management, Evaluări și Analiză Financiară.
Managerul a fost de-a lungul carierei sale CEO al Piraeus Real Estate, ARC Management – compania de real estate a National Bank of Greece și al Fortis Global Management, o companie specializată în evaluări, management de proiect și consultanță pentru proiecte și investiții imobiliare.
"Alăturarea echipei Coldwell Banker reprezintă o onoare și o provocare, chiar dacă piața imobiliară traversează cel mai bun moment al său. Am două obiective foarte clare: consolidarea poziției de lider pe segmentul rezidențial și comercial și deschiderea de noi birouri, atât în București cât și în cele mai mari orașe din România, precum și extinderea pe segmentele de servicii corporate, în special cele de asset management, unde avem o experiență solidă", a declarat Georgia Cailean, CEO Coldwell Banker România.
Coldwell Banker România a înregistrat în 2017, ultimul an cu rezultate oficiale publice, o cifră de afaceri cumulată de 5,3 milioane de euro, fiind una dintre cele mai mari companii de consultanță imobiliară active pe piața locală. Coldwell Banker România este activă pe piața locală de 12 ani și este compania de consultanță imobiliară cu cea mai extinsă activitate pe segmentul rezidențial, având birouri și în Brașov, Cluj – Napoca și Constanța. (sursa: Coldwell Banker Romania)