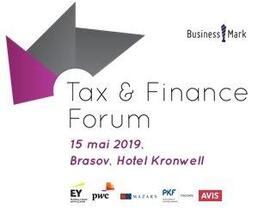 Câteva dintre subiectele pe care le vom aborda vizează tendințele și politicile fiscale la nivel mondial și european, noua abordare OECD a taxării internaționale, prețurile de transfer și controalele fiscale, fiscalitatea și criptomonedele, evoluțiile r­ecente, la nivel european, în materia TVA, tranzacțiile în lanț (alocarea transportului pentru justificarea scutirii de TVA), precum și jurisprudența recentă a CJEU.
Alături de noi vor fi:
ALEXANDRU COMĂNESCU,
Associate Director, KPMG România
GEORGIANA IANCU,
Director, Indirect Tax, PwC România
LIVIU GHEORGHIU,
Senior Manager Tax Advisory, Head of the Transfer Pricing Team, MAZARS România
ANDREEA COSMĂNESCU,
Senior Tax Manager, EY Romania
MARIA POPA,
Tax Manager, PKF Finconta
ANA-MARIA IORDACHE,
Partener, D&B David şi Baias – asociat PwC România
VALENTIN CREȚU,
Tax Manager, International Tax Services, EY Romania - R&D and tax incentives
Aceștia vor aborda principalele teme de discuție: https://bit.ly/2v6k3Tt
Mai multe detalii despre conferința Tax & Finance Forum Brașov și modalitatea de înscriere puteți afla aici: https://bit.ly/2v6k3Tt.
*Participarea la eveniment echivalează cu 5 ore de pregătire profesională pentru membrii Camerei Consultanților Fiscali.
Eveniment organizat de BusinessMark, susținut de: EY România, PwC România, Mazars, PKF Finconta, AVIS.
Radio-ul oficial al evenimentului: Europa FM.
Eveniment organizat cu susținerea: Camerei Consultanților Fiscali, BRCC, BCCBR, Zelist Monitor.
Parteneri media: DeBizz, Financial Market, Transilvania Business, Jurnalul de Afaceri, Administratie.ro, Global Manager, Antreprenor în România, Business24, Ziare.com, Curierul Național, MoneyBuzz, Birouinfo.ro, Depozitinfo.ro, Financiarul, PRbox.ro, Curierul Fiscal, PRwave, Finzoom, SpatiulConstruit.ro, Portal Management, Business Press, Social Media Romania, Clujul de Buzunar, Rbe Connect, Ziarul Bursa, Manager Express, MATEK, InTurda.ro, InfoOradea, Monitorul de Făgăraș, Lumea Satului.